2021 General Assembly Kickoff
2021 General Assembly Kickoff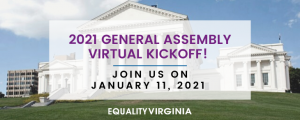 This year, Virginia's General Assembly will be meeting entirely online due to the ongoing pandemic. This will have a big effect on how LGBTQ and allied Virginians connect with legislators this winter when the General Assembly starts on January 13th. After last year's unprecedented victories for LGBTQ legal equality, we can't let up.
Let's kick off 2021 the right way on Monday, January 11 from 8:00-9:30am! Come find out how you can stay informed, connect with legislators virtually, and get involved to support the bills EV is organizing around that will continue to make LGBTQ equality a fact of life in Virginia. Our community's work is far from over, so let's give it everything we got!
Join the 2021 General Assembly Kickoff!
We will be joined by the bill sponsors as well as grassroots community advocates from across the state. You'll have the chance to learn more about the pro-equality bills that will be introduced this year and find out ways to get involved, given the new online format.
Co-sponsors
Thank you to our co-sponsors for spreading the word about the event. You can click here to sign up to be a co-sponsor.
Transgender Assistance Program Virginia
Black Trans Advocacy Coalition
Hampton Roads Pride
William & Mary Alumni Association
Richmond Triangle Players
Diversity in Recovery
He She Ze & We
Staunton Pride
PFLAG Richmond
Nationz Foundation
Virginia Anti-Violence Project
Richmond Lesbian-Feminists
Equality Loudoun
Floyd PFLAG
Shenandoah Valley Pride Alliance
Hampton Convention & Visitor Bureau
Farmville Pride
Diversity Richmond
Virginia Pride
Rappahannock Region Transgender Group (RRTG)
LGBT+ Democrats of Virginia
Richmond Transformers
PFLAG South Hampton Roads
Metro DC PFLAG
Side by Side
Check out some advocacy highlights from previous years: