America has gained the freedom to marry!
Marriage is a fundamental right, and as of June 26, 2015, all Americans have the freedom to marry the person they love in the place they call home!  
For more on the timeline leading up to marriage equality, click here.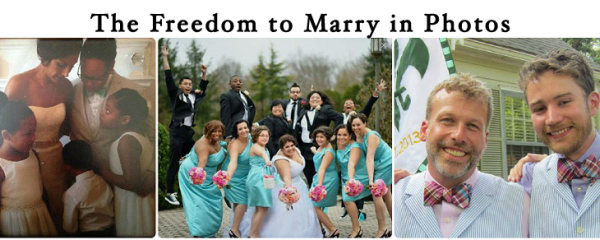 Helpful Information
On October 7, 2014, Executive Order #30 was signed by Governor Terry McAuliffe, stating that his administration will act quickly to continue to bring all policies and practices into compliance in order to give married same-sex couples the full array of benefits they deserve.  The executive order also ordered all entities in the executive branch to further evaluate all policies and take all necessary and appropriate legal measures to comply with this decision.
Family formation
Taxes
Healthcare and benefits
Are you planning a wedding?
Click here to see a photo album of nearly 100 couples who are now legally recognized as married here at home! 
Frequently Asked Questions about Marriage
Thank you to the ACLU of Virginia for compiling the following list of FAQs!
Q. When can I get married in Virginia?
A. You should be able to get a license immediately as of October 6, 2014.
Q. What does this ruling mean for me?
A. Broadly speaking, the ruling means: 1) Same-sex couples are now able to marry in Virginia; and 2) Virginia's government will now treat the marriages of same-sex couples (whether they take place in Virginia or elsewhere) just the same as it treats the marriages of opposite sex couples.
Q. How will this ruling affect my ability to adopt children with my partner?
A. Under current Virginia law, any individual may adopt a child, but only married couples may adopt jointly. Now that Virginia recognizes the marriages of same-sex couples, married same-sex couples should be able to adopt children jointly, meaning that they will both be legal parents of the adopted child. (Unmarried couples, whether same-sex or different-sex, still will be unable to adopt jointly.)
Q. How will this ruling affect the children my partner and I currently have together, or will have together in the future?
A. Virginia law allows a person to adopt the child of his or her spouse – as long as the child has no other legal parent. Such second-parent adoptions should now be available to married same-sex couples. (Individuals who are  not married to their partner, whether the partner is of the same sex or different sex, still will not be able to adopt their partner's child.) Virginia law also provides that children born during the marriage to one spouse are presumed to be the legal offspring of both spouses. This will be true for married same-sex couples as well for any child born after October 6, 2014. For children born during the marriage of a same-sex couple before October 6, 2014, we believe that the parents should be able to get the birth certificate amended to reflect that both of them are the legal parents, as long as there is no other legal parent. Alternatively, they may pursue a second-parent adoptions should still be available (again, if there is no other legal parent).
Q. How will this ruling affect my tax status?
A. Married same-sex couples will be able to file their state and federal income tax returns jointly under the same conditions as different-sex couples.
Q. How will this ruling affect my ability to make medical decisions for my spouse?
A. Virginia law presumes that a person's spouse will make medical decisions for him or her if he or she becomes incapacitated, unless there is evidence that the person wanted someone else to make those decisions. This should now be true for same-sex married couples as well. (However, it is prudent for any person to execute an advance health care directive or "living will,"
regardless of marital status or sexual orientation, so that it is completely clear to health care provider how such decisions are to be made.)
Q. How will this ruling affect my ability to inherit property from my spouse?
A. In the absence of a will, Virginia law provides that a married person's estate passes to his or her spouse. This should now be true for married same-sex couples as well. (However, it is prudent for any person to have an up-to-date will, regardless of marital status or sexual orientation, so that it is completely clear who should inherit.)