What's at stake for Virginia K-12 students?
On September 16th, Governor Glenn Youngkin and the Virginia Department of Education released a draft model policy that would remove and replace 2021's model policies on the treatment of transgender (trans) and non-binary youth in schools. The 2021 guidance assists Virginia's local education agencies in adopting a comprehensive set of policies that will protect transgender and nonbinary students from bullying, harassment, and discrimination in schools and create inclusive and affirming learning environments. Equality Virginia OPPOSES the 2022 proposed model policy.
Governor Youngkin's draft model policy:
Is rooted in transphobia and seeks to further harm trans and nonbinary kids.
Seeks to erase trans and nonbinary youth from the classroom. They create a hostile & potentially dangerous school environment.
Requires teachers and school staff to forcibly "out" students to their parents against their will in some circumstances, such as where a student seeks counseling.
Prohibits teachers and school staff from supporting trans & nonbinary students, such as using a student's affirming name & pronouns.
Creates bathroom and sports policies that prohibit access and/or participation in activities consistent with their gender identity.
---
Public Comment Guide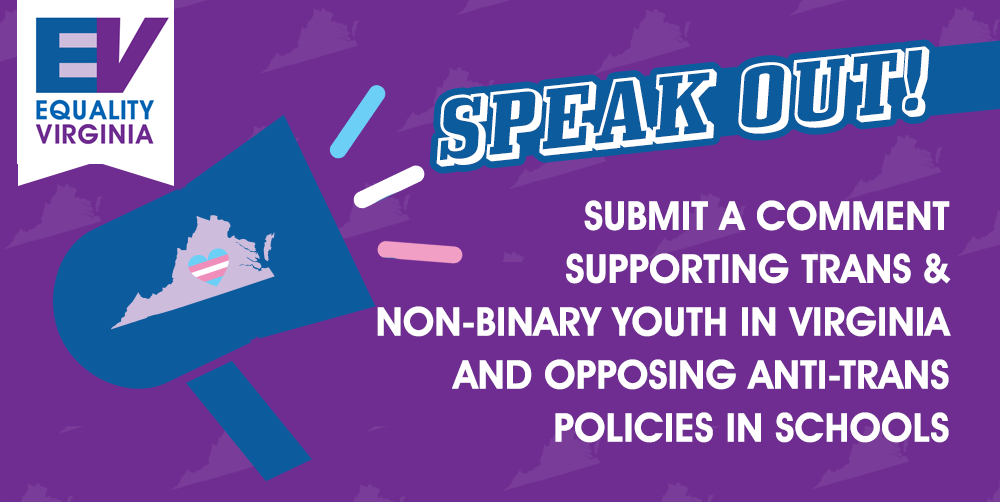 A public comment period for the proposed model policy opened Monday September 26th and will close Wednesday October 26th at 11:59 pm. We encourage you to submit a comment in opposition to the policy. Below are tips. Navigate to the Virginia Regulatory Town Hall Page and click "Enter Comment" to begin.
TIPS
If you feel overwhelmed or too busy to write something personal, you can simply say "I OPPOSE the guidance." Even that helps to show the VDOE the number of people who oppose the guidance.
Identify your relationship to the trans and nonbinary community. Are you transgender? A family member or friend of a transgender person? An educator? A concerned community member?
Tell a little about yourself.
Share why trans affirming school policy matters to you.
If you're trans and have faced anti-trans discrimination while at school, share your story. Be specific as much as you are comfortable with on who or what caused the harm (i.e. student, classmate, teacher, etc).
Please mention how your experience overlaps with multiple marginalized identities.
If you're trans and have had a good school experience that affirmed your gender identity, share your story. Please be specific as well.
Be clear that you OPPOSE the draft policy and want the VDOE to reject them.
If you prefer to submit a public comment anonymously for the safety of you and your loved ones, Equality Virginia has a collection form that will be collecting anonymous comments.
What happens once the VDOE model policies are finalized after the public comment period?
Once the VDOE releases the final draft of the model policies on October 27, 2022 school boards in Virginia will have to consider and vote to adopt or reject the 2022 VDOE model policies. Several school districts have said they will not
---
Additional Information
Tips
The most powerful form of public comment is personal testimony, which can be just a few sentences! We know it can be difficult to know what to say so we have provided some prompting questions for anyone who wants to support trans and non-binary youth:
Parents, caregivers, and adult family members:
What has been your child's experience at their school around being LGBTQ+ or their friends who might be LGBTQ+?
What would it mean to your family if schools removed protections and guidelines that help create safe and inclusive environments for all youth?
How would it impact your young person or their friends at school and in their daily life?
LGBTQ youth, LGBTQ adults, allied youth and siblings:
What has been your experience at school around being LGBTQ+ or having LGBTQ+ peers?
What would it mean to you if Virginia schools didn't have safe and inclusive environments for all youth?
How would it impact you or your peers at school and in their daily life?
Educators, Administrators, and School Personnel:
In what ways would you and your coworkers feel more prepared by having guidance on how to better serve all youth, particularly transgender and non-binary youth?
Why is this personally impactful to you and your coworkers?
How would the guidance set students up for success?
Adult allies:
What would it mean to you and your city/county if Virginia schools did not have safe and inclusive environments for LGBTQ+ youth?
How might it impact your friends, loved ones, and other community members?
Why is this important to you as an ally?
Research
2021 Model Policy (Trans Affirming)
What current protections do transgender and non-binary youth have in schools (under the 2021 VDOE policy)?
School districts' model policies must cover the following areas that schools will address:
Compliance with applicable nondiscrimination laws;
Maintenance of a safe and supportive learning environment free from discrimination and harassment for all students;
Prevention of and response to bullying and harassment;
Maintenance of student records;
Identification of students;
Protection of student privacy and the confidentiality of sensitive information;
Enforcement of sex-based dress codes; and
Student participation in sex-specific school activities and events and use of school facilities. Activities and events do not include athletics.
In addition, the Virginia Values Act bans discrimination against LGBTQ people in places of public accommodation, which includes educational institutions like public schools. This means that schools must offer a safe and equal learning environment to all students, teachers, and staff, including those who are LGBTQ.
The 2021 policies allow trans and non-binary youth to be safer from bulllying, harassment, and discrimination at the hands of their peers, teachers, and school staff and administrators. It also guarantees that supports are in place to allow all youth, including trans and non-binary youth, to have access to an equal educational experience.
The 2021 legislation does not cover transgender and non-binary students' participation in athletics. Instead, this is governed by the Virginia High School League (VHSL), which allows transgender youth to play on teams consistent with their gender identity through a waiver process requiring certain documentation and hearings. Many middle schools follow VHSL guidelines.